Weight Loss With Health
Wednesday, March 18th, 2015 at 12:37 am
By Guest Blogger, Nancy White
What is your priority in your health to improve? If it is healthy weight loss read on.
Anyone can diet, which is taking nutrition out of your intake to lose some weight. But is it improving your health or just temporarily changing the numbers on the scale? It has been proven over and over, diets don't last and people usually gain back more than they lose.
Nutrition is anything we put past our lips and becomes a part of us within 36 hours. Good and not so Good.
Why healthy weight loss ? – Click Here for Benefits and great testimonies

Weight loss with health encompasses mind, body and spirit. You first have to love yourself, believe you deserve to be healthier and take responsibility for your health. Decide in your mind, believe in your heart and then take action! Just like "Nike" Just Do It. The sooner you begin your process to live a healthy lifestyle, the sooner you will reap the benefits. Find an accountability partner and/or a coach (like me) to cheer you on and celebrate your accomplishments!
Want healthy glands, organs, bones, muscles etc. start with healthy cells….. Contact me for more information.
What about you, how do you keep yourself encouraged to stay healthy? A good question is WHY do you want to stay healthy??? Who else benefits when you are the best you can be?
It is more expensive to lose your health, most people have significant financial loss as well.
If you would like your Free copy of The Healthy Wheel self analysis, please go to my website, www.rejvn8u.com
Then your next step is to schedule your Free Discovery Session to review your Healthy Wheel and receive suggestions in an area of your health that is important to you!
Best in Health and Prosperity,
Nancy White – "The Healthy Cells Chick"
P.S. Thank you for reading my post.
P.S.S. I also visualize all my cells smiling and jumping up and down saying Thank You! when I exercise

————————————————————————————————————————————————
About Nancy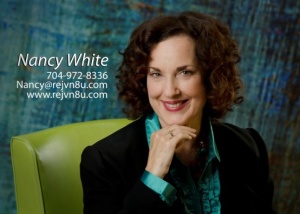 Nancy White is a native of Charlotte, NC. She has a passion for teaching and coaching people to live pro-active, naturally healthy lifestyles. Via her REJVN8U business, Nancy has assisted more than 600 people to improve their health.
Thank you for reading Nancy's blog post!
Please visit Nancy's website for your Free Health Wheel Analysis and Healthy Suggestions Ebook-www.rejvn8u.com. Don't forget to schedule your Free Discovery Session.
Connect with Nancy
Facebook https://www.facebook.com/rejvn8u
Twitter https://twitter.com/NancyWhite21
For Free Organizing Tips to Save You Time – http://tinyurl.com/easyorganizer
Thanks for reading this post. The next step is to click here to experience your Complimentary "Exploration" Session.
Filed under: Empowering Yourself • Live Your Dream Life NOW • Nancy White • Personal Development
Like this post? Subscribe to my RSS feed and get loads more!