How Can an Author be a Business?
Wednesday, March 14th, 2012 at 8:30 am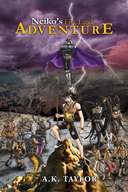 By Guest Blogger, Amanda Taylor
First off, I am honored to be invited by Joy to share this guest post with the Life Passion Network.
I am a new middle grade/young adult fantasy/science fiction author and entrepreneur—everything in general for me is new. I will share with you some of my personal growth as well as the idea that authors are businesses and business owners just like any other company. I am not the first author to embrace this idea nor am I the only one who has thought of this. In the scope of things only a few do and we try to spread this idea in our own community.
When an author publishes a book they don't think of us as a business. People around them don't think of us as a business either. We exclude ourselves from business functions, networks, events, etc. It really is a shame and we are really missing out on many great opportunities. It's not a square peg in a round hole so to speak. Authors may not "fit the bill" of a traditional business that most people think of. But, through my own journey and accrued knowledge, I can say it's far from true.
I was not so different a little over a year ago at the time of this writing. My first book was published in September 2010 so I started small with the people I know and a few limited strategies. In January 2011, I had exhausted what I was comfortable with. This didn't take long since I live in a small town in rural Georgia. I had to find ways reach beyond my comfort zone and utilize other strategies since the traditional book marketing techniques were not working as well as I had hoped. I began doing some online marketing stuff, research, and playing around with social media. I felt like I was lost in the wilderness and completely on my own which I was.
My mother had just started her own business selling a health and wellness product. She started getting involved in other local business networks and the like. I didn't know these existed in our community. A light bulb went off in my head. Surely I can try this stuff too—traditional book sales methods aren't working so I need to try something else. I sat down and brainstormed (authors are good at that) about how similar book marketing is with about any other home-based or small business and decided to try a business/author hybrid stratagem instead.
I've learned a lot by doing this. I have been able to meet some wonderful people. I have even been able to learn other marketing techniques, get leads, and pick up some readers along the way as well as grow. I have been able to share this concept with other business professionals and they see what I see and learn more about what authors really do. What we do is really a mystery as far as reality goes.
What Things are Similar?
Just like any business an author has a product to sell for public consumption: our book(s). When we release our first book we have a product to sell. Every time we produce a new book we have a new product. In a sense an author is like an inventor as well; we must sell their invention (their book) to the masses. Copyright and other registrations work much like a patent and such. Inventors must sell their ideas and inventions to the public as well. Our job is to create and sell our product(s). The simplest form of the author as an entrepreneur schema is that the book is the product and the author is the brand as well as the business owner. Branding becomes very important for authors and it is a traditional business idea that is spreading in the author community!
Marketing a book isn't really any different than marketing any other product in general. We must use word of mouth, the Internet, websites, blogs, social media, wholesalers, etc to sell our books. We sometimes use paid ads on the internet or local papers. The list goes on. We have a targeted consumer with is a target audience. Our consumers/clients are our readers. Reading is how people consume our products and then they tell other people about it. We get people to post reviews about our products so people will trust us and try our products.
Social media and networks are used much the same way by authors. Most of the time our company logo would be the cover art of the book that we are pushing at the time if we have more than one out; it can also be the main character of a series or a book. We must be creative. We must brand ourselves as authors on social media so other people know who we are and what we do as well as what we write and who we write to. We utilize business social media (Linkedin) as well as use Twitter and Facebook. We also use specialized social media like Goodreads and Librarything. Businesses also use specialized networks and communities for their products as well.
Networking is also a must—both on and off the Internet. Being an author can sometimes be a lonely existence. We network with each other and we should network with businesses as well. I've been able to do both and it has been a wonderful experience. I am still very early in my career so getting a feel for it early really helps!
Authors also have to hire people to do things for them they can't (or sometimes shouldn't) do themselves. We must hire cover designers, formatters, editors, illustrators, or self publishing companies to assist us. We also hire/work with distributors. If we hire a self publishing company we have quite a bit more help and more tools to access at our disposal. We must also deal with business contracts in anything we do. Also, we work with other businesses for posters, printing, advertising, website construction, etc. Business engagements also exist for us in many forms.
Sometimes authors also form a secondary business in addition to their books. From consultants, formatters, cover artists, and illustrators to publishers we can do something related to books. Sometimes we can do something totally different! As for me, I have become a writing/social media consultant and a blogger in addition to being an author. This is brand new for me. I was encouraged by colleagues, business people, and publishing industry professionals that I should do this! In addition, I have been invited to write articles for an upcoming website for my home publisher once it's been improved and live. I have written a small nonfiction book about my knowledge that will be released this year sometime. I wouldn't have visualized this a year ago—I didn't know very much a year ago! I have learned so much in a year. I won't have any idea where things will go a year from now—or 10 years from now.
Seismic Shifts in the Publishing Industry Makes Us Adapt
Authors do things much differently than they did thirty years ago. Big commercial publishers have nearly sealed the gates and there is the self-publishing/Indie revolution going on. Ebooks are taking over the market faster than everyone ever dreamed. That isn't to say paperbacks and hardback will be gone forever. We have to go with the flow or risk loosing customers because we can't get them what they want. We authors must adapt.
Also we must use different techniques since many traditional book marketing strategies aren't as effective as they used to be. They can/still work, but they are much slower and sometimes VERY expensive! Newspapers and traditional media are shrinking. It's harder than ever to get anything outside of a local newspaper about a book. Newspapers are letting their book editors go. They don't feature book signings like they used to. I know because I have tried and talked to bookstore CRNs and bookseller professionals in my local community. Bookstores are going out of business. New authors have a lot of trouble getting into any bookstore to do a signing. You can make your own signing anywhere without the bookstore I have learned myself and from other authors. We need to find more effective ways to reach out!
These seismic changes also have changed the way we sell books and what publishers do for authors. If a new author is lucky enough to be signed into a contract with Random House, for example, chances are the author will be responsible for the marketing. The days of publishers helping us sell books are gone unless you are an A-list author, so we must do it ourselves no matter where our books are published. Indie authors have to market on our own too. It's a long hard road, but we have more control and determine our book's destiny. In turn we get to be more personal with our readers, other authors, and other businesses. Nothing happens overnight.
We essentially become entrepreneurs and we use/must use new techniques for a new publishing industry!
————————————————————————————————————————————————
Amanda's Bio
Amanda Taylor is a new MG/YA fantasy/science fiction author who wrote her first book at age 16 who writes under her pen name AK Taylor. She is also a new entrepreneur that specialized in writing/social media/publishing consulting and coaching for new and aspiring authors and a blogger. Amanda also enjoys many other hobbies and interests including beekeeping, gardening, science, drawing, and music. She can be reached in social media and either of her blogs.
Facebook Profile: www.facebook.com/amandahaulktaylor
Facebook Fan page/business page: www.facebook.com/AKTaylorsBooks
Twitter: www.twitter.com/A_K_Taylor
Personal/book blog: www.backwoodsauthor.wordpress.com
Business and writer resource blog for new authors: www.newbieauthorsguide.com
Book website: www.neikos5landadventure.net
**for links to LinkedIn, Branchout, Google+ and other social media, you can find them on the about pages of both blogs.
Upcoming works: Book two of the MG/YA action adventure series Escape from Ancient Egypt and the nonfiction book for new authors Self Promoting and Survival Tips for Newbie Authors coming soon in 2012.
Thanks for reading this post. The next step is to click here to experience your Complimentary "Exploration" Session.
Filed under: Empowering Yourself • Live Your Dream Life NOW • Personal Development • Positive Thinking
Like this post? Subscribe to my RSS feed and get loads more!