Check Out Emmanuel Ngwainmbi's New Book!
Tuesday, January 27th, 2015 at 2:32 pm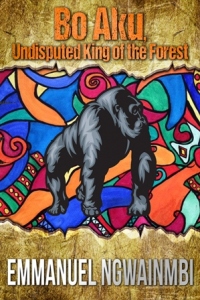 Press Release By Crossroad Press
The official release of the print edition of this book will be February 15, 2015. The digital edition was released in January.

Bo-Aku: Undisputed King of the Forest
by Emmanuel Ngwainmbi
Bo Aku, King of the Forest and other Stories is an adaptation of some sixty myths and legends collected in Africa with a research grant from the Southern Education Foundation.
The stories describe the experiences of children and parents confronted by a gorilla and lion in the African jungle. They are eclectic, rich in moral values, humorous, suspenseful, and contain wisdom. They seek to enlighten the reader about Bantu African mythology and other ways of reasoning. They open the door to an enchanted universe where the child learns that every evil phantom has its opposite that is more powerful and worth imitating.
The legends and folktales are set against the backdrop of Bantu culture, steeped in mysticism and logical reasoning that date back to the 12th Century A.D., when interdependent villages existed in the grasslands and mountains of the black tribes in the Benue and Adamawa regions, a part of what is known today as West Africa. Chad, Gabon, Nigeria, Benin, Senegal, Ivory Coast, and Mali are among the twenty-two countries in northwest Africa.
The Kingdom of Ba, situated in the northwestern Africa has a diverse and rich culture. Events, dates, and artifacts bear special meaning to the people.
Story telling is a centuries-old family-oriented educational experience. For the African family, it is like watching a movie with great suspense on a family channel.
Whether they have been invited or not, strangers from the neighborhood pick a home they want to visit. They arrive early in the evening and chit-chat with the family members until dinner is served. After dinner, the older people tell folktales to lure children to sleep. Parents would ask their children to put out the fire in the hearth and get into their beds and close their eyes. Their parents and older people would then begin to tell tales. Some children would quickly fall sleep.
The narrator uses humor and good voice management skills to sustain the audience's concentration until the end. Like the main actor in a movie, the narrator must be able to use stunts, engage the audience in the action, sing, raise, or drop his voice according to the pace of the character's action. Ninety-nine percent of the heroes and villains in the stories are animals, so the narrator must imitate their sounds and actions, to convince the audience that he is in fact the animal.
The narrator starts with a question: "Mogana?" ("May I tell a story?"), and the listeners reply "Sun ngayn" ("Yes, you may"). From the response, the narrator knows who is still awake. The call-and-response approach suggests not only the participatory experience between the storyteller and listeners, but, most importantly, it engages both parties in a educational activities wherein the keen listener prompts, redirects, or corrects the teller when he omits a section or uses a term not known to the audience.

PRAISE FOR BO-AKU:
"Emanuel Ngwainmbi brilliantly explores the funny, thrilling, and shocking encounters between young African boys and girls with the gorilla, Bo Aku. Bo Aku is a beautifully crafted story that is sure to hold the reader's attention. Ngwainmbi's place is on the same road as Achebe, Armah, Ngugi, and Aidoo!" – -Prof. Molefi Kete Asante, Leading figure in African-American Studies, African Studies and Communication Studies and author of over 70 books and 200 articles
Ngwainmbi's love for children's literature is ….inspired. The stories were ..edited and incorporated into a story geared toward young western readers. – -Matthews Mint Hill Weekly Newspaper
The stories flow well and provide ample opportunity for classroom teachers to develop critical questions related to the plots, characters, and cultural issues, as well as the major themes in each story. The book can easily be used as a springboard into further classroom discussions and investigations. Classroom teachers can build a thematic unit from each story or the entire collection. – Elizabeth Reynolds, Ph.D. Secondary education, administration and professional development
We have always educated and entertained our children with stories. In Bo Aku, King of the Forest and other Stories the author, Emmanuel Ngwainmbi, has masterfully gathered and presented ageless tales that will captivate and amuse youngsters. The folktales he recounts are from the countries of Northwest Africa and these adaptations shine with vibrant, vital people living and loving life.
Animals and peoples of the grasslands and the mountains live through adventures and experiences in these myths and legends which highlight universal human experiences. This book is brimming with delights and surprises. Mr. Ngwainmbi has done a stellar job which will enrich children's lives. – Karen Tolley
Author of Berta and Elmer Hader: A Lifetime of Art
————————————————————————————————————————————————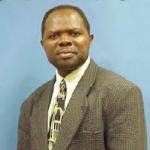 ABOUT THE AUTHOR:
Emmanuel K. Ngwainmbi (pseudo E.M. Kane) is the author of twelve books, numerous articles, book chapters, white papers, and monographs on black experiences, Africa's development, international communication, and globalization. His writings appear in academic and trade publications such as the Columbia University International Affairs online journal, University Press of America, Sage, Lynne Reiner, Rutledge, and Greenwood Press. Prof. Emmanuel has also contributed to a number of anthologies including the Encyclopedia of African Religions and the Handbook of Black Studies. He has been Director of International Education Programs and Department Head in a number of universities and colleges. He has held senior positions in academic organizations, and lectures widely in the US, Germany, Sweden, Norway Asia and Africa on the confluence and impact of globalization on indigenous communities. He has been a commentator on Voice of America; BBC-Africa; West Africa Democracy Radio, and other cable television stations in the US, Europe and Africa.
He serves as a senior communication consultant to various United Nations and intergovernmental agencies, and is on the Editorial Board of peer-reviewed journals the likes of Intercultural Disciplines (JID), Development and Communication Studies, and Literature & Art Studies. He is a member of various national and international communication and literary organizations such as the International Association of Intercultural Communication Studies, Poets & Writers, the Academy of American Poets, American Society of Journalists and Authors. A recipient of awards in literature, journalism and the social sciences including the Distinguished Professor Award from The Chinese Academy for Social Sciences, he reviews articles and books for various professional journals.
His next novel Leap in the Dark is scheduled to be released by Koehler Books in Spring, 2015.
To order the book, click the links below:

Click Here to Order Via Crossroad Press
Click Here to Order Via Amazon
Click Here to Order via Barnes & Noble
Author's website: www.connectwithafrica.com (currently under construction)
————————————————————————————————————————————————
PRESS RELEASE: BO-AKU – Undisputed King of the Forest
ISBN: Hardcover: 9781941408131 – Retail Price : $21.99
Trade Paperback: 9781941408148 – Retail Price: $12.99
84 Pages
Author: Emmanuel Ngwainmbi
Publisher: Crossroad Press, 141 Brayden Dr., Hertford, NC 27944
Phone:(252) 340-3952
http://store.crossroadpress.com
publisher@crossroadpress.com
PUBLICIST: Sylvia Shults – eMail: pompeii100@yahoo.com
————————————————————————————————————————————————
Thanks for reading this post. The next step is to click here to experience your Complimentary "Exploration" Session.
Filed under: Empowering Yourself • Personal Development • Positive Thinking
Like this post? Subscribe to my RSS feed and get loads more!